Skip to Main Content
It looks like you're using Internet Explorer 11 or older. This website works best with modern browsers such as the latest versions of Chrome, Firefox, Safari, and Edge. If you continue with this browser, you may see unexpected results.
Types of Self Care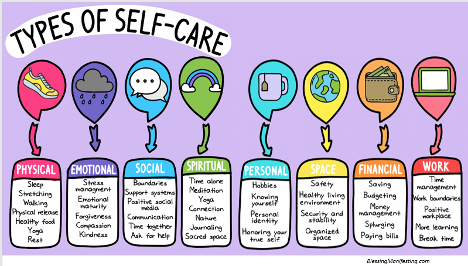 '
https://bccampus.ca/2020/06/18/why-self-care-isnt-selfish-caring-for-yourself-during-covid-19/
Healthy Eating
Tasty

Tasty offers a wide variety of recipes including things for beginners, special diets, and meal preps. Their recipes are accompanied by helpful videos.

EatingWell

EatingWell curates healthy, easy to follow recipes. They offer meal plans, recipes for special diets, and helpful videos.

Allrecipes Healthy Recipes

Allrecipes is a social network for people to share recipes. New recipes are added every day by users. This link takes you to the healthy recipes page, but there are many others to explore.
Notifications and Disclaimers
Ascension Saint Thomas Medical Library (ASTML) and its staff have no affiliation with or in any other way receive benefit from listing any app or platform on this page.
When at all possible, apps and platforms with a no cost option have been listed. If a cost is associated with any links on this page, ASTML Staff have made all attempts to notate such. If a cost exists or becomes associated with any links on this page, ASTML Staff in no way suggest that functionalities associated with cost or payment are better or more beneficial.